Extruding Machine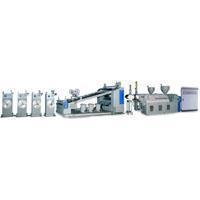 Extruding Machine
Product ID: WJ-R210 - Multilayer
With over 32 years of dedicated experience in the development and improvement of extrusion machinery manufacturing technology, Won Jee is a leading provider of high-quality extruding machines in the industry.
Our Multi-layer Plastic Sheet Extruding Machines stand out with their exceptional capacity and impressive output, surpassing industry standards. At Won Jee, we not only prioritize quality but also offer the best after-sales service to our valued customers. Our machines are designed for optimum efficiency, reducing the need for frequent spare part purchases and saving you valuable time and resources. We provide a wide range of extruding equipment to cater to various production needs, ensuring high efficiency and productivity. When you choose Won Jee's extruding machines, you can expect maximum profitability and success.
Experience the superior performance and reliability of Won Jee's extrusion machinery. Trust us for top-quality extruding machines that will elevate your production capabilities. Partner with Won Jee and unlock your full potential in the extrusion industry.
Vertical Type Three Pressure-Extend Roller
Model
Motor
Drawing
Wheel Dia.
Wheel Length
Standard Equipment
Additional
WJ-R210
5HP
2HP
ø 210
500~1500
Thermos / Heat resistance pump & temp. countrol *3 sets / Edge cutting & Recover install *1 set / Advance and retrent motor
Plastic surface treater / Edge cutting & Recover crusher / Unequal marking of roll
WJ-R250
7.5HP
2HP
ø 250
WJ-R270
7.5HP
2HP
ø 270
WJ-R290
10HP
3HP
ø 290
WJ-R310
10HP
3HP
ø 310
Order Information:
Minimum Order: Negotiable
FOB: Taichung