Plastic Recycling machine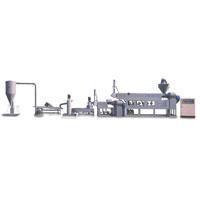 Plastic Recycling machine
Product ID: WJ150
The plastic recycling machine is offered by Won Jee designed for waste recycling solutions especially for plastic materials such as PP, PE, PS recycling and other thermoplastics wastes. Won Jee Plastic Machinery is a company dedicated to manufacturing plastic recycling equipment covering from waste plastic recycling machinery to plastic extruder machine that does excellent plastic recycling and extrusion jobs.
With modern technology and professional level of quality control, our plastic recycling machine is friendly to the environment while providing solutions to plastic recycling. The machines that we produce are made of 6 components: main extruder, second extruder, cooling tank, dehydrator, vibrating screener and centrifugal pellets blow motor. All these parts vary based on the model type.
Currently carrying 4 models of plastic recycling machines, with more than 30 years of experience, we are continuously designing better products. Our machine help promote the usage of recyclable plastic waste materials. If you own a large factory or any type of overhaul facilities that produces a significant amount of plastic waste, then our machines are a perfect choice for you. Our aim is to help reduce pollution and increase productivity.
Two stages degassing plastic recycling machine for plastic waste material by using vertical downward extruding model for the machine. The advantages of die cutting mold are as following:
◎The finish products are subjected to contain pressure so they are consistent in size and perfectly shaped.
◎Cooling water cover's spray does no moisten the die head so its output is unaffected.
◎Downward adjustable cooling water cover is easier to operate and replace die cutter.

For more information of the plastic recycling machine, please feel free to send your inquiry to us.
Model No.
WJ-100
WJ-120
WJ-150
WJ-175
Main extruder
Screw dia.
¢100mm
¢120mm
¢150mm
¢175mm
Motor
50HP
100HP
150HP
200HP
Temp. control
6 zones
8 zones
9 zones
10 zones
Output (kg/hr)
120-180
150-220
200-300
250-400
Dimension (M)
4.2 x 1.8 x 3.0
5.1 x 1.9 x 3.4
6.5 x 2.2 x 3.7
7.2 x 2.3 x 3.8
Second extruder
Motor
20HP
30HP
50HP
75HP
Temp. control
4 zones
5 zones
5 zones
6 zones
Cutting motor
2HP
3HP
5HP
5HP
Dimension (M)
2.3 x 1.5 x 2.1
2.9 x 1.6 x 2.2
3.4 x 1.8 x 2.4
3.7 x 2.0 x 2.6
Cooling tank
Water pump
3HP
3HP
5HP
5HP
Dimension (M)
1.8 x 0.6 x 0.7
2.0 x 0.6 x 0.7
2.2 x 0.65 x 0.8
2.2 x 0.65 x 0.8
Dehydrator
Motor
7.5HP
7.5HP
10HP
10HP
Dimension (M)
1.3 x 0.9 x 2.3
1.3 x 0.9 x 2.3
1.35 x 0.9 x 2.4
1.35 x 0.9 x 2.4
Vibrating screener
Motor
0.25kw x 2
0.25kw x 2
0.25kw x 2
0.25kw x 2
Dimension (M)
2.6 x 0.6 x 1.1
2.6 x 0.6 x 1.1
2.6 x 0.6 x 1.1
2.6 x 0.6 x 1.1
Centrifugal pellets blower motor
3HP
3HP
5HP
5HP
Order Information:
Minimum Order: Negotiable
FOB: Taichung