Plastic Waste Recycling Machine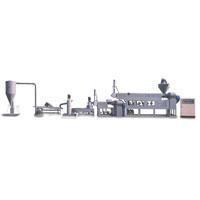 Plastic Waste Recycling Machine
Product ID: WJ150
Won Jee Plastic Machinery has been dedicated to plastic waste recycling machine manufacturing technology development and improvement for more than 32 years, as a professional manufacturer, Won Jee works hard on not only expanding the environment protection business, but also actually increase the use of recyclable material by the plastic waste recycling machine and equipment.
The quality of Won Jee's product is well-reputed among international customers. Starting from Asia, Won Jee has promoted the plastic waste recycling machine and plant to worldwide include Middle East, North and South America, Africa, Australia and Europe. Won Jee R&D team keep developing more advanced and innovation way in manufacturing the equipment to cross the high standard of earth-friendly products. Higher productivity and less pollution are both the goals Won Jee works on.

For different requirements, Won Jee has several kinds of plastic waste recycling machine for customers to choose from. Just get a plastic shredding and recycling equipment most fit for you, you earn the maximum profit from the waste material, and at the same time assist environment protection as well. Please do not hesitate and contact us for more information.
Model No.
WJ-100
WJ-120
WJ-150
WJ-175
Main extruder
Screw dia.
¢100mm
¢120mm
¢150mm
¢175mm
Motor
50HP
100HP
150HP
200HP
Temp. control
6 zones
8 zones
9 zones
10 zones
Output (kg/hr)
120-180
150-220
200-300
250-400
Dimension (M)
4.2 x 1.8 x 3.0
5.1 x 1.9 x 3.4
6.5 x 2.2 x 3.7
7.2 x 2.3 x 3.8
Second extruder
Motor
20HP
30HP
50HP
75HP
Temp. control
4 zones
5 zones
5 zones
6 zones
Cutting motor
2HP
3HP
5HP
5HP
Dimension (M)
2.3 x 1.5 x 2.1
2.9 x 1.6 x 2.2
3.4 x 1.8 x 2.4
3.7 x 2.0 x 2.6
Cooling tank
Water pump
3HP
3HP
5HP
5HP
Dimension (M)
1.8 x 0.6 x 0.7
2.0 x 0.6 x 0.7
2.2 x 0.65 x 0.8
2.2 x 0.65 x 0.8
Dehydrator
Motor
7.5HP
7.5HP
10HP
10HP
Dimension (M)
1.3 x 0.9 x 2.3
1.3 x 0.9 x 2.3
1.35 x 0.9 x 2.4
1.35 x 0.9 x 2.4
Vibrating screener
Motor
0.25kw x 2
0.25kw x 2
0.25kw x 2
0.25kw x 2
Dimension (M)
2.6 x 0.6 x 1.1
2.6 x 0.6 x 1.1
2.6 x 0.6 x 1.1
2.6 x 0.6 x 1.1
Centrifugal pellets blower motor
3HP
3HP
5HP
5HP
Order Information:
Minimum Order: Negotiable
FOB: Taichung