Plastic floor tie extrusion machine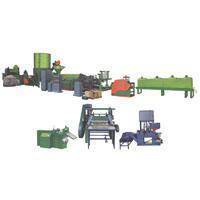 Plastic floor tie extrusion machine
Product ID: WJ150
Features of Finished Products
Material can be specified : hardness, thickness of floor tiles can be specified.
Wear-resistant : the thickness of floor tiles is 0.1mm. They can last for three years under normal conditions.
Good in separating both cold and heat : floor tiles separate cold and heat in any weather condition.
Good elasticity : fragile articles won't break when fallen to the ground.
Many colors : for customers' widest choice.
Easy to apply : just tear the tape on back of floor tiles for easy application.
| Model No. | WJ-120 | WJ-150 |
| --- | --- | --- |
| Screw Diameter (mm) | 120 | 150 |
| Pressing Quantity 1.2x12"x12"(pcs/min) | 36-40 | 46-50 |
| Capacity, Hopper (kg) | 250 | 400 |
| Polar No. (P) | VS 4P | VS 4P |
| Hose Power (HP) | 50 | 75 |
| Temperature Control (point) | 10 | 12 |
| Weight (kg) | 3022 | 4000 |
| Dimensions (LxWxH) (M) | 3.3 x 0.75 x 1.5 | 3.9 x 0.75 x 1.5 |
Order Information:
Minimum Order: Negotiable
FOB: Taichung